Yesterday a photo appeared on Photo Stream, this has caused much speculation and an extrapolated image of what the iPhone 5 may look like has been created.
What is very interesting is that the button isn't wider as originally guessed .In this guess,it is actually narrower to make room for a bigger screen.
However, we have received word that of the two new iPhones coming out from Apple, this may be the smaller, cheaper iPhone that is set for release at the same time.
If the latest rumors are true, we'll find out September 7 what the iPhone 5 looks like. That's when Apple will purportedly hold a media event to unveil whatever it's been hatching all summer.
The iPhone 5 may look very much like what you're seeing here. (That said, I'm not holding my breath for white versions right out of the starting gate.)
These mockups suggest an iPhone 5 design that's closer (at the rear, anyway) to the iPhone 3G.
So, what exactly do these mockups tell us? For starters, the iPhone 5 will almost certainly have a larger screen than its predecessors, most likely measuring 4 inches diagonally. That's only half an inch of growth, but it translates to nearly 15 percent more viewing area.
There's also the question of the Home button. Will it be elongated, as shown in the mockups and suggested by the case designs? If so, that could prove another rumor: that the iPhone 5 will have a touch-sensitive Home button that responds to swiping. Alternately, the button might remain the same size, but the cases larger opening would allow for swiping.
I'm sure we'll find out more in the coming weeks, as the leaks tend to get hotter and heavier the closer we get to an Apple event. Of course, at this point even the September 7 date is unconfirmed–but it does seem very likely that Apple will show its cards early next month. As always, stay tuned!
What are your thoughts on the mockups? Think they're close to the real deal? If so, do you like the designs? Share your thoughts in the comments.
We've been following the UK Riots out here for the last couple days now, and there's about to be a serious spanner thrown into looters' aspirations of getting rich in rapid fashion selling stolen iPhones: turns out that, within the next couple of days, most of them will prove worthless as they've been blocked at the carrier level from working with any SIM card throughout the UK.
It's a fairly simple process, reportedly, that takes just a couple of days. Store owners will be able to check their stock records for IMEI numbers (kind of like a cell phone's serial number), and then report the numbers of the stolen phones to the various cell phone networks, which will then add said numbers to their EIR–Equipment Identity Register–lists, which will in turn cause the phones to stop working with any SIM card before a full day has passed.
And on a certain level, this will do wonders at preventing a good chunk of the Apple loot from being very useful. Some have pointed out, however, that this really only works in the UK itself, and should these phones be exported to other countries and thus, other carriers, the EIR blocking system wouldn't work near so well.
Anything that can be done to prevent looters from profiting as a result of their theft sounds pretty good to me, though it is a bit distressing to see that exporting will have precious little that can be done to stop it, especially if the phones go to developing nations where the networks are fragmented at best and have little in the way of oversight.
So what do you guys think here? Is there any other way to prevent the looters from making profit on their stolen iPhones that you can see? Suggestions will probably be welcome to those out to stop the looters' activities, so head on down to the comments section, strike a blow for law and order, and tell us what you think!
The sequel to one of the few iOS games popular enough to knock the mighty Angry Birds off the iTunes chart top spot has been released.  Cut the Rope: Experiments sees the game's cute leading character, Om Nom, arrive on the doorstep of a professor who quickly learns that an endless supply of candy will be needed!
Don't expect a massive change in gameplay though, as ZeptoLab has sensibly kept the winning formula of Cut the Rope in place, so expect 75 levels of rope-cutting, candy-munching fun.  The game also introduces a new character, a crazy professor running the titular experiments; but before Om Nom fans start getting concerned, he's more Doc Brown than Herbert West.
The iTunes page also makes a note of an Om Nom comic book coming to the App Store soon, which in addition to the recently announced plush Om Nom toys, shows ZeptoLab are going all out to build their cuddly mascot into an Angry Birds-style brand.
Cut the Rope remains a very addictive and clever iOS game, and its legions of fans will no doubt grab this new title straight away.  However although I enjoyed it, the thought of paying for essentially more of the same isn't all that attractive, so I'm hoping to find a degree of variation once I start playing.  Cut the Rope: Experiments is priced at £0.69 for the iPhone and £1.49 for the iPad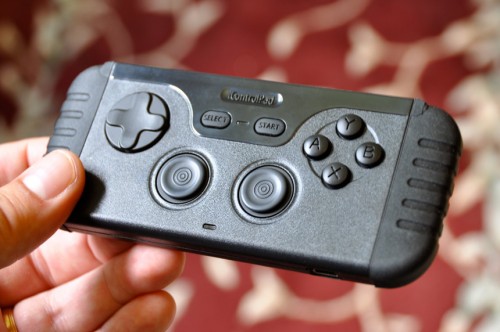 When Apple called the iPod Touch the "Funnest iPod Ever", it was clear Apple was talking about gaming. But using the touch sensitive screen on the iPod — and iPad and iPhone for that matter — isn't necessarily the best way to input commands. Especially for action games like NBA JAM or Madden.
Some companies make "joysticks" that try to bridge the gap, but it's still a far cry from having physical buttons like a Nintendo DS. One solution is the iCade, which started as an April Fool's Joke, but was so popular that ThinkGeek turned it into a real product. It's great, but not exactly portable.
Now, we have the iControlPad. It's a Bluetooth control pad that's been in the works formore than three years — and it's finally shipping.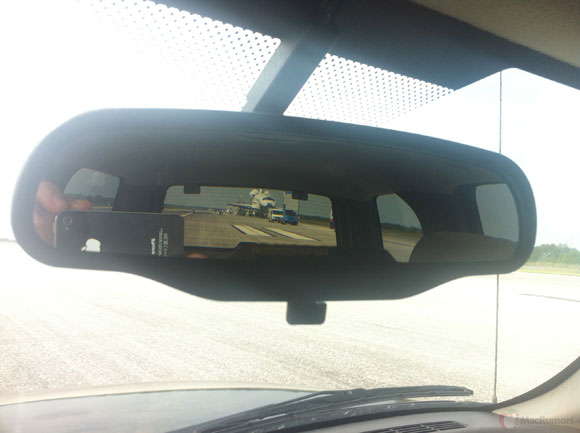 This is Shuttle Atlantis sitting on the runway at the Shuttle Landing Facility at Kennedy Space Center, Florida, yesterday morning. (Click for full size)
It was snapped by MacRumors reader Justin, using his iPhone 4 via the mirror in his SUV.
Atlantis lifted off for the final mission of the Shuttle program on July 8 with two iPhone 4's aboard. They will be used for scientific testing onboard the International Space Station.
Chalk up another potential medical application for Apple Inc.'s iPhone: a modified version of the popular gadget can help monitor sodium and glucose levels to combat diabetes and anemia.
A team from Northeastern University's Department of Pharmaceutical Sciences led by Professor Heather Clark worked on the system, that also involves a nanosensor "tattoo".
"I don't think there's any doubt that this sort of technology will catch on," Jim Burns, head of drug and biomedical research and development at Genzyme, said in an article posted on the MIT Technology Review.
The system could be used to track many important biomarkers besides glucose and sodium, in a simpler, less painful, and more accurate way.
Such a setup could be handy for cyclists who need to monitor sodium levels to prevent dehydration, and anemic patients who need to track their blood oxygen levels, the article said.
Clark presented this work at the BioMethods Boston conference at Harvard Medical School last week.
But for now, the iPhone only takes images of the fluorescence, which the researchers then export to a computer for analysis.
She and one of her graduate students, Matt Dubach, are now working to create an iPhone app that would easily measure and record sodium levels.
They also hope to get the reader to draw power from the iPhone itself, rather than from a battery.
Clark is also working to expand the technology from glucose and sodium to include a wide range of potential targets.
"Let's say you have medication with a very narrow therapeutic range. (Today) you have to try (a dosage) and see what happens," she said.
She added the nanosensors could let people monitor the level of a given drug in their blood in real time, allowing more accurate dosing.
Also, the researchers hope to soon be able to measure dissolved gases, such as nitrogen and oxygen, in the blood to check respiration and lung function.
How it works
The tattoos were originally meant as an alternative to finger-prick bloodletting, the standard technique for measuring glucose levels in those with diabetes.
Under the system, a solution with carefully chosen nanoparticles is injected into the skin, leaving no visible mark.
But the nanoparticles will fluoresce when exposed to a target molecule, such as sodium or glucose —and changes in fluorescence can be detected and tracked by a modified iPhone.
The tattoo developed by Clark's team contains 120-nanometer-wide polymer nanodroplets including a fluorescent dye, specialized sensor molecules designed to bind to specific chemicals, and a charge-neutralizing molecule.
Once in the skin, the sensor molecules attract their target because they have the opposite charge. When the target chemical is taken up, the sensor is forced to release ions to maintain an overall neutral charge.
This changes the fluorescence of the tattoo when it is hit by light. The more target molecules there are in the patient's body, the more the molecules will bind to the sensors, and the more the fluorescence changes.
While the original reader was a large boxlike device, Dubach designed a modified iPhone case that allows an iPhone to read the tattoos.
The case contains a nine-volt battery, a filter that fits over the iPhone's camera, and an array of three LEDs that produce light in the visible part of the spectrum.
A light-filtering lens is placed over the iPhone's camera, filtering out the light released by the LEDs, but not the light emitted by the tattoo. The device is pressed to the skin to prevent outside light from interfering.
Will you be able to control the iPhone 5 with your voice? According to a screenshot discovered by9to5Mac, Apple is brewing a fully-integrated voice control feature called Assistant.
Assistant isn't yet available in the developer beta of iOS 5. 9to5Mac predicts it could be exclusive to the iPhone 5, although it's possible the feature won't be ready by then.
Apple acquired voice control app Siri early last year. Siri takes items stored on your phone like location data, calendar information, music metadata, and contacts to help satisfy verbal requests. Assistant, which will presumably be built using Siri's technology, will also use this information to serve the user in a similar way, but not as a standalone app, rather built into the iPhone 5. If you want to see how Assistant might work, the Siri app is available for a free download in the App Store.
For example, you could say "make brunch plans with Katie," and the feature would search Katie's contact information, find time in your iCal schedule, and offer listings of restaurants in your area that serve brunch.
The feature would also be able to talk back to the you, and 9to5Mac says the Apple will crowd-source the speech data, meaning you would have the option of sending your data to Apple securely to help improve the service.
Beyond this voice control feature, other pervasive iPhone 5 rumors include a completely revamped "teardrop"-shaped profile, an edge-to-edge screen, a dual-core A5 processor like the one featured in the iPad 2, and wireless baseband chips from Qualcomm. It's also been rumored that Apple couldannounce more than one iPhone when the fifth-gen smartphone is launched.
When will Apple launch the iPhone 5? So far, most rumors indicate that Apple will debut the phone in September or October to coincide with the fall launches of iOS 5 and iCloud.
The Facebook app for iPhone has been updated to fix a number of bugs that caused the app to crash.
Facebook for iPhone makes it easy to stay connected and share information with friends. Use your iPhone to start a conversation with Facebook Chat, check your friends' latest photos and status updates, look up a phone number, or upload your own mobile photos to Facebook while on the go.

What's New In This Version:
– Restored the Send button for Comments, Chat and Messages
– Restored friend lists to the News Feed filter
– Fixed a number of bugs that caused the app to crash
You can download Facebook from the App Store for free.
The next time you're waiting for that bus that is really, really late, there's no need to worry about your iPhone or iPad battery dying. Thanks to a creative ad company and the Vitaminwater brand, bus shelters in several American cities are being equipped with a USB port for charging.
The shelters are currently in Boston, Chicago, Los Angeles, and New York. Ad agency Crispin Porter + Bogusky, which is sadly the same firm that brought us the Microsoft "I'm a PC" campaign, is using the tag line "Alternative Energy Source" to describe both the Vitaminwater product and the function of the bus shelter plug.
Samsung has had charging kiosks in many airports for several years, so the concept isn't exactly new. But this is the first time that charging has hit the streets, usually the one place that you really need to plug in and charge up. It would be wonderful to see more advertisers providing this type of public service, giving their products and potential customers a plug.