Two new patent applications have surfaced that Apple filed more recently than most we see. The apps show stylus pens for the iPhone and iPad with one that can shoot whatever you write on any surface to the iPhone or iPad.
The App Store has hit another milestone with downloads. Apple has announced that 15 billion downloads have now been made.
Apple has promised to fix the flaw in PDF handling that leaves the device open to security threats. Apple offered no idea when the fix would come, simply saying it would land in a future update.
Source: iphonebuzz
In my experience, iOS games that accompany the release of major motion pictures should come their own giant, flashing "Proceed With Caution" sign. I've found such apps usually have a rushed-to-market feel, as if they were slapped together to be on the App Store in time for the movie's premiere. And whatever effort the developer and studio put into the initial release is usually long forgotten by the time the movie lands in the "Bargain DVDs for Under £5" bin at your local supermarket.
If Marvel Entertainment and its new corporate parent Disney aren't careful, though, they're going to give the movie tie-in game a good reputation. Captain America: Sentinel of Liberty, newly released to the App Store to help promote the forthcoming Captain America movie, features solid production values and engaging gameplay. This universal game will be a welcome arrival for Captain America fans and may even entertain iOS gamers who couldn't care less about Steve Rogers's alter ego.
In the Captain America game, Cap's commando pals have been captured by Red Skull and his sinister Hydra organization. It's up to Cap to lead a one-man assault to free his buddies and foil Hydra's plot to build deadly super weapons to use against the forces of good. This backstory sets into motion a side-scrolling platform game, in which you tap into Cap's superhuman abilities to make your way through 24 unlockable levels.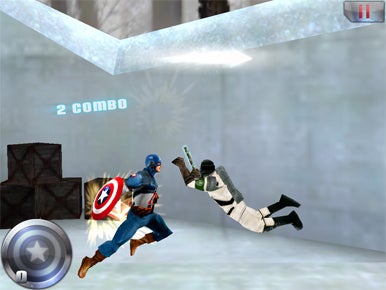 Captain in Control: Swipe down, then up, then to the side to dispense foes in Captain America with a flair worthy of the first Avenger.
You steer Cap's actions through a series of onscreen controls. Swiping in a specific direction will make him run, jump, and slide, while on-screen buttons control his shield and other super skills. When it's time to battle Hydra goons, it takes a combination of swipes to dispatch them—the game is very good about reminding you which direction to swipe and when.
Captain America's controls may be easy to pick up, but they're occasionally troublesome to execute. Cap's forward momentum can keep him rushing in one direction when you'd rather go the opposite way. A double-tap is supposed to stop him in his tracks, but I had some trouble executing full stops with pinpoint precision. Cap's habit of running headlong in one direction becomes especially problematic as you get to later levels that require more precisely executed maneuvers. Some gamers will be frustrated by Cap's insistence on running into booby traps while they frantically tap the screen to make him stop.
The development team put a lot of effort into the look-and-feel of Captain America, and it comes across in the finished product. Little details like the sounds Cap makes when he runs across different surfaces help the game shine. (One criticism: Cap rattles off one-liners as he dispatches Hydra henchmen and they're as cheesy—"Courtesy of Uncle Sam!"—as they are repetitive. You can turn them off in the app's settings, though that turns off all sounds.) The background music befits a game tied into a major theatrical release. The 2D graphics look sharp—I prefer the wider canvas of the iPad, though the game looks and plays fine on all of Apple's iOS devices. If there's a downside to all this detail, it comes in the form of longer load times than you might be used to and the occasional performance hiccup on older devices like the iPhone 3GS.
I don't pretend to speak for comic book enthusiasts, but Marvel included some appealing extras for long-time Captain America fans. As you progress in the game, you can unlock old Captain America comic book covers, as well as different costumes for Cap. Cut scenes shot as motion comics are clearly included with graphic novel fans in mind.
I don't know how the theatrical release of Captain America will fare this summer, but the game certainly makes a respectable debut. Give the player a little more control over Cap's forward momentum, and this will be one game I hope turns into a long-running franchise.
Source: macworld
A COUPLE found out they had won £3.5million on the lottery after checking their numbers on an iPhone.
Chris Bowers, 61, was getting ready for bed with wife Sue when he logged on to an app on the phone to see if they were lucky.
The gadget lover spotted a green tick next to their numbers on the screen – revealing they had won a £3,497,114 share of a Lotto rollover jackpot.
Chris, who only bought the phone last week, said: "We just put it on search on the iPhone and it came up with six little red dots and a green tick. I was shaking. I said to Sue 'I think we've won'. We cuddled each other and sat there grinning.
"The man from Camelot said, 'You're now a multimillionaire', which is quite mind-blowing. We didn't quite believe it until the money was in the bank."
After the numbers came up, Chris, a forklift truck driver for 46 years, told his boss he was quitting. Sue, 60, had already retired from her job as an administrator 10 weeks ago.
The couple now plan to buy a bigger home to accommodate Chris's 92-year-old dad and then go travelling. Chris said: "I'd love to have a larger house so my father can move in with us – he can have his own space but we can also be there to help him.
"Sue would love a bigger garden. I'll be glad to retire and take it easy. We plan to travel in our motorhome."
Sue added: "I might tag him so I know where he is all the time and what he's spending."
The Bowers bought the Lucky Dip ticket at Sainsbury's near their home in Wellingborough, Northants, on Saturday.
Their winning numbers were 10, 18, 34, 35, 39 and 48.
Source: Mirror
Whatever the next iPhone turns out to be, Apple is planning to sell gobs and gobs of it. The latest word, reported by the Wall Street Journal, is that Apple is telling its suppliers that it expects to sell 25 million of the "iPhone 5" before the end of 2011.
The report cites unnamed sources at Apple's suppliers. Apple's products are assembled by Taiwan's Hon Hai, the world's biggest contract manufacturer of electronics, says the Journal. Hon Hai gets its parts from other companies in Taiwan and other parts of Asia, and people said to be from those suppliers revealed some details about the next iPhone, dubbed the "iPhone 5."
Besides the usual rumors about an 8-megapixel camera and a thinner design, the unnamed sources said the new iPhones would use wireless baseband chips from Qualcomm instead of the ones from Infineon Technologies, which are in the current iPhone 4, according to teardowns of the product.
One of the sources revealed Apple's sales goals, telling the Journal, "Apple's sales estimates of the new iPhone is quite aggressive. It told us to prepare to help the company meet its goal of 25 million units by the end of the year. The initial production volume will be a few million units… we were told to ship the components to assembler Hon Hai in August."
The 25-million target, while high, is realistic for the iPhone. Apple is reported to have sold 3 million iPhone 4s in the first three weeks of its release. In its most recent quarter, Apple reported selling 18.65 million iPhones, though that figure includes the older 3GS model as well. A previous report said Apple had ordered15 million 'iPhone 5s' from notebook maker Petagron.
Most reports point to Apple announcing the next iPhone in the late summer, with a September launch. There's alse been speculation that Apple may announce more than one iPhone when the time comes. For a run-down of the most prevalent rumors surrounding the iPhone 5, check out our slideshow of the most buzzed-about new features.
Source: pcmag
Yesterday, the 30th June, was supposed to be the deadline for applications selling content to have removed any links to an online store, for example the vast majority of eBook apps would have to either convert all their books to in-app purchases, or get rid of the store completely.
At first, things were looking much worse, but recently Apple did change their approach slightly when they adjusted one of their App Store Guidelines.  Instead of requiring all products sold in-app to be offered for sale via the App Store, at the same price or lower, this was relaxed to enable apps to read and display content purchased outside of Apple's eco-system, but not feature a 'buy button' or external link.
No mention of the June 30th deadline was made, but rules are rules and they still have to be enforced.
So here we are on the 1st July, and which of the big names has updated or removed their app today?  Kindle's still there, Kobo's still there and so's Zinio; and none of them have had an update changing anything close to Apple's new rule.  In fact, buying a new magazine via Zinio proves nothing has happened yet, as I'm taken to their website to finalize my order.
What happens now?  Apple's not likely to have forgotten about their rule, and it's unlikely the stores have either, so is it just a waiting game until apps are removed due to rule violations?  It'll be fascinating to see who blinks first.
Source: iphonefreak
Here is a great idea for a niche iphone product. These pretty warm looking gloves are a must for users of iPhones in colder climates. The gloves are made from Merino Lambs Wool and come in all sorts of earthy colours and at just $20 per pair they wont burn a hole in your pocket. The Gloves feature tiny dots on the thumbs and index fingers to allow you to operate your iPhone seamlessly without getting your hands cold!
For more info check out their website at dotsgloves.com
Somewhat surprisingly, hip audio accessory manufacturer Skullcandy has announced a speaker dock for the iPhone and iPod.  While there's nothing surprising about that exactly, it's the subtle and actually quite classy design that shocks!
Skullcandy's range of headphones and earbuds have names ranging from the ridiculous Ink'd to the somewhat immature Smokin' Buds, and are primarily for 14 year-olds.  While they have dabbled in iPod docks before, the Vandal is the first true speaker system they've come up with.
Amazingly, it's something those who've passed puberty may be interested in buying, thanks to a cool retro design and decent array of speakers.  The blurb lists 80mm woofers and 19mm tweeters, but doesn't say how many of each are housed in the curvy black and gold dock, however we'd guess there are two of each.
The total output power is 21 watts and the audio can be tweaked using a bass and treble dial, mounted alongside the usual play/stop and volume controls.  Around the back of the Vandal is a 3.5mm audio input, and a 30-pin connector too.
The Vandal is listed as being out of stock on Skullcandy's official site, and it doesn't seem to have appeared on any other online retailer's site just yet, so we've got no idea when it's going to go on sale; but when it does it's going to retail for $179 in the US (about £115).
Source: iphonefreak
In an investors note, RBC Capital Market analyst Mike Abramsky indicated that he expects Apple will soon offer the iPhone 3GS for free—or rather, for $0 with a qualifying service contact.
Abramsky believes the free iPhone 3GS will form the a new entry-level tier in Apple's iPhone product line, and will likely appear whenever Apple reveals a successor to the iPhone 4. Abramsky does not expect the iPhone 4 to go away: rather, it will occupy a middle position in an iPhone product line, with Apple's still-unannounced iPhone 4 successor in the top slot. Abramsky believes the broadened iPhone product line will be Apple's move to "target mid-market smartphone buyers" and ratchet up competition with Google's Android platform, which is currently the top-selling smartphone platform in the U.S. market. Abramsky forecast a free iPhone 3GS could expand the iPhone's worldwide marketshare from some 64 million users to more than 150 million users.
As part of its research, RBC hired ChangeWave to conduct a survey of 1,500 consumers; the survey found 14 percent of respondents would be very or somewhat likely to purchase an iPhone 3GS for free with a two-year service contract. Some 13 percent expressed a similar level of interest in the iPad, and only 9 percent for the original iPhone.
Although the iPhone 3GS is currently available for $50 from AT&T in the United States with a two year contract, the investors note reasons that a "free" iPhone 3GS will be far more tempting to consumers, if only a tiny bit cheaper for them over the course of their service contract.
The iPhone 3GS was launched in the United States over two years ago, in June 2009.
Apple has not announced when it plans to launch a follow-up to the iPhone 4.
Source: news.yahoo
Need a controller for your Mac or iOS-based game, but don't have a physical controller handy? Pull out your iPhone and install Joypad.
The app turns your iPhone or iPod touch into a wireless virtual controller with a configurable set of buttons. It syncs up to a desktop client and remaps the buttons on the Joypad to keyboard buttons on your desktop. It's very clever, and is a free download.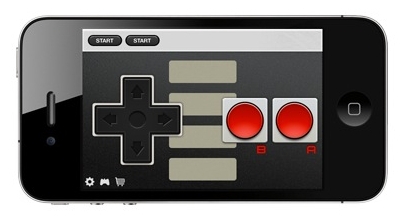 Taking the app to the next level, the two-man development team, Zell Interactive, offers several sets of skins to give Joypad that retro feel, including classic NES and Super Nintendo controllers. Sounds perfect for some MAME-emulation, doesn't it?
Finally, the makers of Joypad have developed an iOS SDK to allow other developers to incorporate Joypad support into their games. Similar to how the Scrabble iPad game lets users store their tiles on their iPhone to hide them from other players, JoyPad let's you control a game on your iPad from your iPhone. It works via Bluetooth and it's awesome.
Source: Macrumors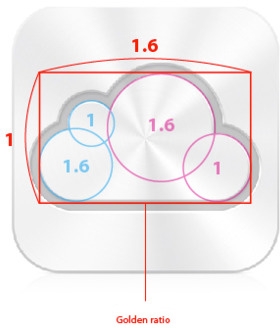 Apple's logo artists have infused the iCloud logo with some mathematical elegance. In this case, the golden ratio or φ.
The circles in the 'puffs' of the iCloud are sized in a ratio of 1:1.6, an approximation of golden ratio, as discovered by Australian designer Alan van Roemburg. It seems unlikely the proportion was unintentional; Apple's artists simply have an acute sense of the history of design and mathematics.
The golden ratio has been around since at least Euclid and Pythagoras. Fans of the Da Vinci Code should know it too, as Dan Brown has referenced φ several times in his books. No wonder iCloud seems so elegant and aesthetically pleasing.
Source: macrumors