On Tuesday, Boy Genius Report said it "confirmed" Apple will launch a fifth-generation iPhone, and not just a minor upgrade often referred to as the "iPhone 4S."
According to BGR editor Jon Geller, a "reliable source" confirmed a radical new case design, which would complement the famous teardrop-shaped iPhone 5 rumor first reported by This Is My Next.
With less confidence, Geller's sources suggested Apple "may" announce the fifth-generation iPhone at a separate, unprecedented event in August or at its annual iPod-related event in September.
Time has already eliminated one enduring rumor about the iPhone 5: that Apple planned to announce it at the Worldwide Developers Conference in early June (instead CEO Steve Jobs introduced iOS 5 and iCloud).
Last week Apple began selling an unlocked, unsubsidized iPhone 4, fueling speculation that Apple purposely created a high cost barrier for the iPhone 4 so people would wait and eventually purchase a subsidized fifth-generation iPhone in the fall. On Thursday, AppleInsider reported that Apple was withholding the next iPhone and iPod Touch until it finalized a bundled version of iOS 5 and iCloud.
Tech journalists aren't the only ones eager to get a sneak peek at Apple's next iPhone device; Samsung recently asked for a preview, arguing before the courts that it was an essential part of the discovery process in its trademark case against Apple.
As mobile technologies like near-field communications (NFC) and high-speed 4G networks gain steam, both features that the iPhone 4 lack, it remains to be seen whether or not Apple will choose the early adopter route of launching an NFC-equipped, multi-carrier new iPhone this fall, or if it will fall behind NFC-equipped devices from Nokia and Android phones slated for the end of the year.
Source: pcmag
One staple of iOS since its inception has been the Weather app, a simple home screen powered by Yahoo and The Weather Channel that allows users to add locations and see the current conditions as well as a six-day forecast of high/low temperatures and an icon showing the conditions for each day.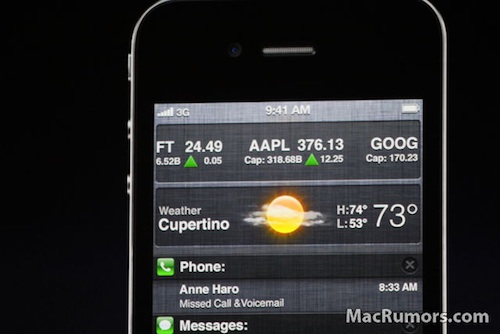 With iOS 5, Apple has made several minor improvements to the weather functionality, starting of course with the integration of a weather widget into the Notification Center, offering users a glance at weather conditions with a single swipe.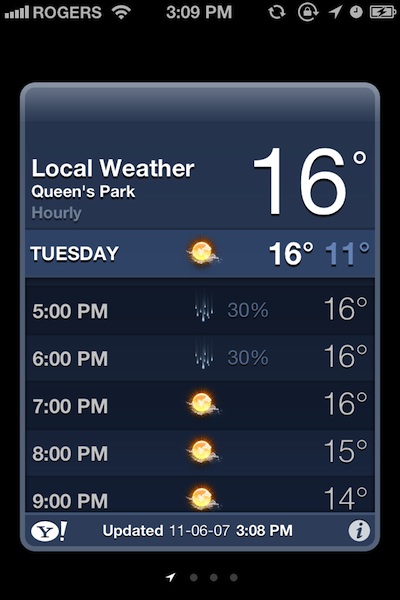 But Apple has also made improvements to the Weather app, including a "current location" page that uses geolocation to automatically display the weather and forecast for wherever the user is rather than having to manually input a location.
Apple has also increased the level of forecast detail, as tapping on a daily forecast expands the item to display an hour-by-hour forecast of temperatures and conditions, with the user able to easily scroll through the entire list for the day.
Unfortunately, Apple has yet to deploy a dynamic home screen icon for the Weather app that would show the current conditions for the user's location instead of the fixed display of 73 degrees and sunny. But with the weather easily accessible from anywhere via a single swipe in Notification Center, users may find their need for a dynamic home screen icon to be lessened considerably.
Source: Macrumors
Ever want to design an iPhone app but have no coding skills whatsoever? Not to worry; several companies are offering click-and-drag iPhone app creation. App Press has a service that allows the user to upload custom images and assemble those images into the layout of an app.
Once you've added your images and text, the App Press team will assemble your app and submit it to the App Store for you. Prices can be steep, however. App Press charges a monthly fee ranging from US$15-99 for access to its CMS designer tool. After that, a one-time iTunes developer setup fee, including three months of free app creation or issue publishing will cost you another $1500. You can see example's of App Press-designed apps here and here.
Another company called Appirio offers a framework that allows businesses to easily deploy custom apps to its employees or clients. Appirio's software package is also a click-and-drag one that produces iPhone and iPad apps that are linked to Salesforce.com's cloud-based systems.
The cloud-based linkage allows businesses to push out updates to their apps without the need to redeploy the apps or the data the apps contain. In addition to letting users create click-and-drag apps, Appirio also offers plenty of templates for field survey apps, time and action-tracking apps, location-based apps and search and display apps. Currently there is no set pricing for app creation through Appirio, but interested parties can contact the company here.
Finally, Nov8rix delivers a 'fan site' app framework that's designed for creative artists, musicians, small businesses, faith communities and other organizations. It leverages the social media profile you or your organization already has, aggregating photos, news, events, tweets and media into an attractive package. The price is right, too; the company is running a limited-time offer of a basic subscription service (where you have to set up all your source content yourself) for only $19 a month per app.
Source: tuaw


On Tuesday Apple began selling the iPhone 4 unlocked in the U.S., as reports had suggested they would. Both 16 GB and 32 GB GSM versions of the iPhone 4 in both black and white are available in the Apple online store, and 9to5Mac indicates they will also be available in Apple retail stores starting Wednesday.
An unlocked iPhone won't come cheap for U.S. residents. The 16 GB iPhone 4 sells for $649, while the higher capacity 32 GB model goes for $749. In exchange for the higher asking price, you won't be saddled with a multi-year carrier service contract, however, and you can use the phone with any supported GSM network in the world, so long as you get the appropriate micro SIM card and service plan.
As GigaOM mentioned yesterday, while the device itself is unlocked, the options for 3G GSM service in the U.S. are extremely limited, which means that while this iPhone 4 may offer the impression of carrier choice, in effect you're pretty much stuck with AT&T(T_) — orT-Mobile, if you're willing to sacrifice 3G speeds.
T-Mobile, of course, is in the process of being acquired by AT&T, and some suspect this is a move on behalf of AT&T to encourage U.S. regulators to let the deal go through.
Still, many commenters on GigaOM's post yesterday about the prospect of an unlocked iPhone suggested they were interested in purchasing such a device, with many citing overseas travel as a big reason why a carrier-agnostic phone would work well for them. We also brought up the possibility that reselling the iPhone later might be easier, and maybe even more lucrative.
9 to 5 Mac says this newest iPhone won't necessarily get 3G FaceTime support – you'll probably still need to hook up with a Wi-Fi connection to video chat with friends and family – but over-the-air software updates look increasingly certain. (Right now, Apple issues software updates to handheld devices via iTunes; Android updates, on the other hand, are pushed directly to users' handsets. Apple is a hold-out in this regard.)
Thus far, no Apple employees have left a spare iPhone 5 around a California bar, so we have no idea what the phone will look like. The received wisdom in the tech blogosphere is that the iPhone 5 will closely resemble the iPhone 4 – boxy, flat, slim. But back in May, at least one tech site reported that Apple had invested in machines equipped to cut curved glass, which could mean Apple is rejiggering the shape of its popular smartphone.
Over at CNET, David Carnoy mulls the possibility that the new iPhone will include 4G capability. This makes sense – Sprint, AT&T, and Verizon have all rolled out (or are in the process of rolling out) 4G networks. An iPhone that did not include a 4G antenna could make Apple look behind the game, especially considering the profusion of 4G phones which have hit the market in recent months. Then again, the original iPhone did not offer 3G, even though the network was in full effect at the time.
What would you like to see on the iPhone 5? Drop us a line in the comments section.
Source: csmonitor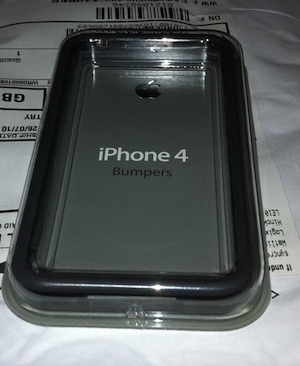 In what is not a terribly big surprise considering that they started shipping at the beginning of the week, free iPhone 4 bumpers have begun arriving into the hands of customers. As with the first wave of shipping notices, the arrivals appear to be limited to the UK for the time being, although customers in other countries who have received shipping notices can expect theirs to quickly follow.
Recipients report that the bumpers come in the standard Apple packaging for the product. And while customers who ordered bumpers are beginning to see theirs arrive, those who opted for third-party cases through the free case program have still seen no sign of movement on their orders, with shipping estimates pushing out well beyond a month for many customers. Those customers should keep their eyes peeled, however, as orders for Apple bumpers similarly showed lengthy initial shipping estimates before suddenly beginning to ship earlier this week.
In case you didn't know, Apple has instituted a free case program for all iPhone 4 owners. Simply go to
and download the iPhone 4 Case Program App to get your choice of free iPhone 4 case.
Source: iphonenewsblog
Rovio has released a trailer for the next Angry Birds update, and it takes the birds and pigs underground!  Named Mine and Dine, Rovio say it's set in the 'dark, damp underbelly of the Angry Birds World'!  As you'd expect from a game set in a mine it's rocky down there, with stalactites getting in the way and the pigs needing hard hats to protect themselves.
The official Facebook page has this to say: "Take the fight for the eggs to dark underground caverns and use the geology to your advantage to root out the peskiest of piggies!", so it's clear we can expect plenty of cunningly designed levels!
The news came from a tweet sent yesterday, and it's the first update to come to the original game since the completion of Ham 'Em High back in March.  The video doesn't give any indication when the update will land, aside from saying it's 'coming soon'.
After the frivolity of Rio and the Easter-themed fun of Seasons, we're looking forward to getting back to the simple brilliance of the original Angry Birds!
Source: rocktheiphone
Angry Birds Rio has added 15 new levels and a new bird type.
In Angry Birds Rio, the original Angry Birds are kidnapped and taken to the magical city of Rio de Janeiro, where they eventually escape their captors and set out to to save their friends, Blu and Jewel – two rare macaws and the stars of the upcoming Fox motion picture, Rio. Angry Birds Rio will pair the physics-based gameplay of the original game with unique twists based on the film.

Angry Birds Rio features:
– Four fantastic episodes with 105 exciting levels!
– Completely new achievements!
– Special Hidden fruits – discover them all!
– Put your Angry Birds skills to the ultimate test in a spectacular boss fight!
What's New In This Version:
– A whole new episode! It's time to Samba!
– 15 all new levels
– New bird type
You can purchase Angry Birds Rio HD from the App Store for $2.99.
Source: iclarified
For the first time since 2006, Apple did not show off a new iPhone to open the company's annual Worldwide Developer's Conference. Instead, Steve Jobs today officially unveiled Apple's iCloud music and media storage service as well as new operating software for Macs and mobile devices.
"We're going to move the digital hub, the center of your digital life, into the cloud," said Jobs. "This is the first time we've seen this in the music industry… I buy a song, it goes everywhere."
While these updates don't offer any revolutionary improvements, the many enhancements and tweaks will surely be welcomed by Apple fans.
Jobs went on medical leave in January, but made a public appearance in March to announce the iPad 2. He appeared visibly thinner than during his last public presentation three months ago.
Since Apple announced last week that it would be presenting iCloud  – a free service available available today for iPhone 4 owners – and iOS 5 (available this fall) at the WWDC, industry pundits correctly predicted that a new iPhone would not released until at least later this year.
Today's iCloud announcement is more about keeping Apple competitive with its ongoing rival, Google, and a new big player in the mobile scene: online retailer Amazon.Google last month debuted Google Music at its I/O Developer's Conference, while Amazon's Cloud Playerwas introduced in March.
The introduction of iOS 5 for iPhones, iPads and iPod touch devices suggests that Apple could be unveiling a new smartphone as soon as the fall. Mac OS X Lion is the eighth major update to the Mac operating system.
iCloud, Apple's cloud data and music service
iCloud, in many ways, is an update to Apple's MobileMe service, but with no price tag and a major new cloud music-streaming service for iTunes users. For music, iCloud is fundamentally different from its rivals because of the way it operates. Apple will offer consumers a digital music locker to upload songs that they purchase from iTunes. These songs are then streamed back to multiple devices using an Internet connection. In addition, Apple will offer iTunes Match for $24.99 a year which will allow users to stream music from the cloud that they may not have purchased directly from the iTunes store itself.
"Some people think the cloud is just a big disk in the sky… We think it's way more than that," said Steve Jobs.
Since iCloud takes over for Apple's MobileMe service, it also allows users to sync calendars, emails, photos and documents with its cloud servers and access all that data on multiple devices using the Internet. For mobile device users, iCloud also syncs data for third-party apps, allowing those apps to share information among devices; for example, you could play a game on your iPhone, sync it to the cloud, and pick up where you left off in the same game on an iPad.
In recent weeks, Apple executives have been heavily courting the music industry. Last Friday, it was revealed that Apple paid at least $100 million for the rights to songs from Universal Music, the largest of the four major music companies. Today, Jobs did not comment on any upcoming or previous deals with record companies.
iOS 5: revamping the mobile user experience
Ahead of the eventual release of a next-generation iPhone is iOS 5, the latest version of Apple's mobile operating system that runs on iPhones, iPod Touches and iPads. IOS 5 will be available some time in the fall, fueling speculation that it will be released in conjunction with a new iPhone.
For iOS 5, Apple has altered a number of ways the software directly interacts with users. Push notifications, for example, have been reworked to be less clunky and obtrusive with a convenient pull-down status bar showing things like missed calls, text messages and social networking updates.
Other significant features of iOS 5 include:
-Users will no longer need to attach their devices to a Mac or PC to obtain software updates or sync their data.
-iMessage, a new messaging and social chat service that only works between iOS devices like the  iPhone, iPad and iPod Touch. It will not eat up your SMS text message limits, so will be a huge benefit to iOS users everywhere who don't want to be at the whim of their cellular providers.
-Twitter will be more closely integrated into iOS 5, making it easy to share photos or status updates with friends immediately.
The camera features have also been updated. Now you'll be able to quickly access the iPhone's camera even when your phone is locked, and there are some new features allowing users to edit and tweak their images once captured.
The iOS Game Center has been updated, offering recommendations for new titles you might like to play as well as the ability to purchase them immediately.
Mac OS X Lion ($29.99)
Mac OS X Lion was first teased by Apple last October. Since then, developers have accessed beta versions of the software, and the completed product will be available in July for $29.99. In a new move, the software will be available only through the Mac App Store, not on optical media like previous releases.
The updated operating system has 250 new features, 10 of which were demonstrated at WWDC including multi-touch gestures and full screen applications. Lion will automatically save your documents in the background and make it easier to share files with others, similar to the popular Dropbox app.  The new OS offers more powerful search capabilities and the Mac App Store will be seamlessly integrated into OS X .
iPhone 4S coming later this year?
Apple is likely holding back a new iPhone release until at least the fall, but hints of the new device were suggested at WWDC what with the release of iOS 5 around that time. It will most likely be called the iPhone 4S, and it is expected to be more of an incremental update with a few internal changes than another big step forward in iPhones.
While Apple's next smartphone will probably look a lot like the iPhone 4, the 4S model should include one big, important change —  iPad 2's A5 dual-core chip, which would make it a substantially more powerful media machine. The A5 in the iPad 2 is supposedly twice as fast for games as the previous iPad chip, and Apple seems to be making a push toward creating an identity for the iPhone 4S as a gaming device.
For the first time since 2006, Apple did not show off a new iPhone to open the company's annual Worldwide Developer's Conference. Instead, Steve Jobs today officially unveiled Apple's iCloud music and media storage service as well as new operating software for Macs and mobile devices.
Source: news.yahoo
Thanks to iCloud, with the introduction of iOS 5 this fall, iPod Touch/iPhone/iPad users no longer need to connect their devices to a Mac or PC in order to use them.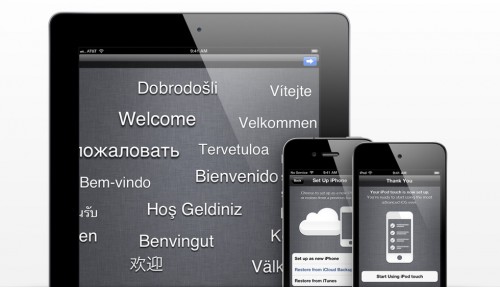 Apple is calling the new feature PC Free, and it allows users to activate their devices wirelessly, right out of the box. Future iOS updates can be downloaded over-the-air and iCloud will enable backups of photos, music, contacts, calendars and more — and allow users to simply type in their AppleID and password to restore a new device from an iCloud backup. That should make Genius Bar device swaps much more convenient as well, not to mention easier and quicker Personal Setup on new iOS devices at Apple Stores.
This is a long-needed feature that should further expand the reach of Apple's devices. Tech-savvy youngsters can buy products for their parents and grandparents without needing to teach them about syncing or for them to even need any other device. The vaunted "digital hub" that Apple introduced with the original iPod nearly 10 years ago, which had the Mac at the center of your digital world with other devices surrounding it, is gone.
Now, Apple's (free!) iCloud service will be the center of everything.
Source: macrumours